Product
Yubo Launches New Features: Add Friends by Tag
3 minutes read
-

Written by Yubo Team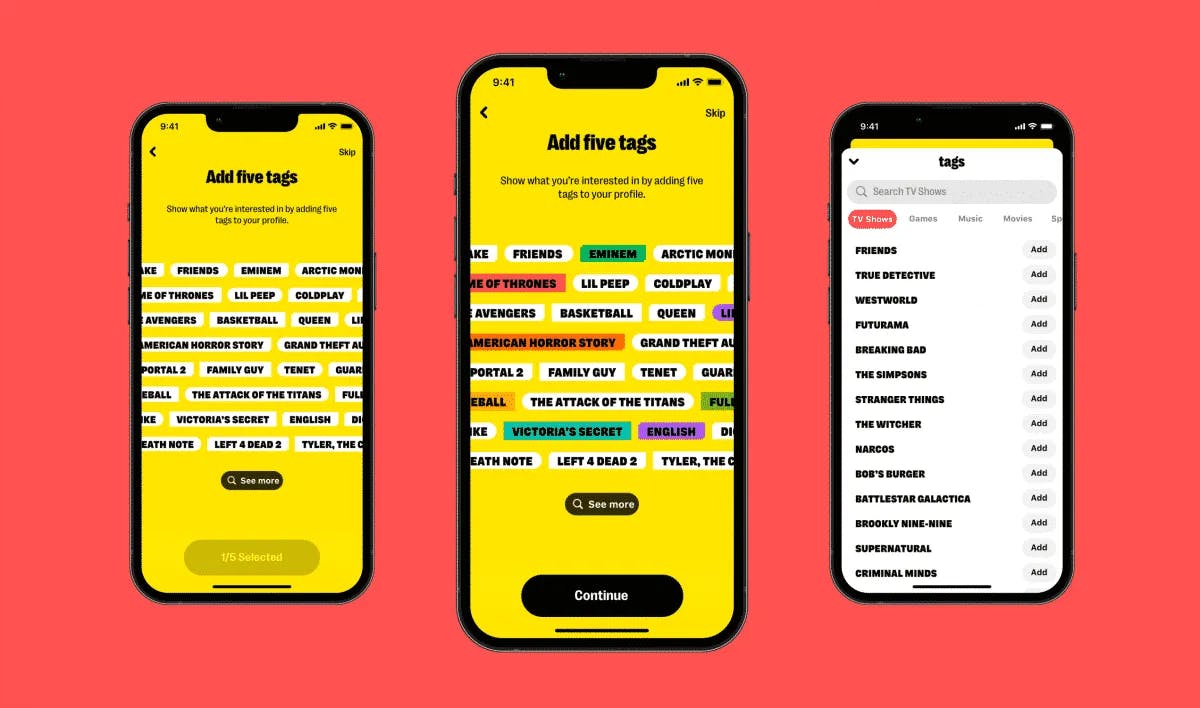 At Yubo, we've been focusing on building a place for Gen Z to make meaningful connections and have fulfilling conversations. That's why we've been busy building features that help new users easily make groups of friends with common interests. More specifically, we want to encourage new users to express their hobbies and interests in their profiles and also explain that joining a live for the first time isn't as high-stakes or intimidating as it may seem. 
Adding Tags at Sign-up = A More Personalized User Experience 
Users add tags to their profiles to show their new friends the latest topics that they're keen to chat about. To make sure new users start off with plenty to discuss, we've included the tags feature in the account creation flow. In order for them to find the right tags to add to their profile, new categories have been launched– making it easier than ever to find everything from your favorite show or your favorite hobby. Already, this feature has been adopted by 65 percent of new users! 
Making Friends Who Share your Interests
We want our users to make friends with common interests, so it will now be possible to add friends by tags too! This new feature is super easy to access. Now, user's top tags will appear directly in their "friends" tab so that all they need to do is click on them to find their future friends. 
This feature will also be available directly from users' profiles. If a user comes across a profile with a tag that interests them, they can click on it to find other users who share that interest. This feature is going to help users make valuable new connections and meaningful friendships. Not to mention that sharing the same interests is the perfect ice-breaking to start a new friendship! 
We Know Going Live can be Scary: So Let's do a Test Run First 
Yubo is for all personality types, from type A extroverts to the painfully shy. And no matter where someone falls on that spectrum, joining a live for the first time can seem intimidating. That's why we added a new onboarding step that will differentiate between a watcher and a streamer, and show users that they can join a livestream with their microphones and camera turned off. We hope that this improvement will show every user that they can socialize on Live without barriers, no matter what their comfort level is.