Safety
Yubo's new age verification feature helps keep you safe
3 minutes read
-

Written by Yubo Team
What's this new feature on Yubo all about?
In May 2022, Yubo introduced a new age verification feature to help keep all of our users safe while on the app. If you are a Yubo user, here's what you need to know! 
You might have received a new pop-up either while using the app or while creating an account on Yubo. Far from being mysterious, this pop-up is simply the launch of Yubo's new age verification system – and this time it's an easy and simple process, without any need for an ID card, documentation or other form of proof. 
Why is Yubo introducing this new feature?
Online age verification allows platforms to confirm age and identity of users over the internet. Yubo's main purpose for introducing this new verification feature is to help continue to keep everyone on Yubo safe. By confirming our users' ages, we can ensure that everyone is the age they say when they are interacting with each other on the app. This will help prevent people who intend to lie about who they are or create false profiles. It also allows users on Yubo to be confident they are interacting with others in their similar age group, just as they would in real life. 
What is Yubo's new age verification system?
Yubo's age verification system was developed in collaboration with Yoti, who has been our trusted partner since 2019 in helping to verify the identities of suspicious user accounts on Yubo. Yoti and Yubo are now adding this new safety feature to the mix to provide another step in age verification for all our users. It will serve as an initial filter when entering the app helping to ensure users are the age they claim to be.
How does Yubo's age verification system work?
This new age verification process is intentionally very easy and simple. In fact, all it requires is a real-time photo that you, as a user, will take within the app. Yoti's age estimation technology will then analyze your photo and estimate your age – and it is 98.9% accurate! It also uses a special liveness algorithm that takes a short video to detect that it is a real photo and not a screenshot or image pulled from Google. Once your age is delivered and it matches the age on your profile, you are verified and can access the app. However, if your age doesn't match, you will need to go through an additional verification process.
Why was I asked to verify my age and not another user I know?
The age verification feature has been launched in beta stage for users ages 13 and 14, but will begin rolling out to the rest of users with the goal of age verifying everyone on Yubo by the end of 2022.
How is this feature privacy-friendly?
Protecting your data is particularly important to us when creating any feature on the app, and our new age verification system is no exception. Thanks to this new system, no identification documents or personal information will be required and instead you will only need to take a real-time photo of yourself within the Yubo app, which will then be processed by Yoti's age estimation technology. At Yubo, our ultimate goal is to make age verification accessible while guaranteeing the protection of our users' data. We are proud to be the first major social media platform who will have age verified all of its users!
A step-by-step guide
You can check out our step-by-step guide below or watch this video to learn more about how this new verification feature works.
Step 1
When you receive the initial pop-up, you will first be directed to verify your age and agree to the terms of the verification.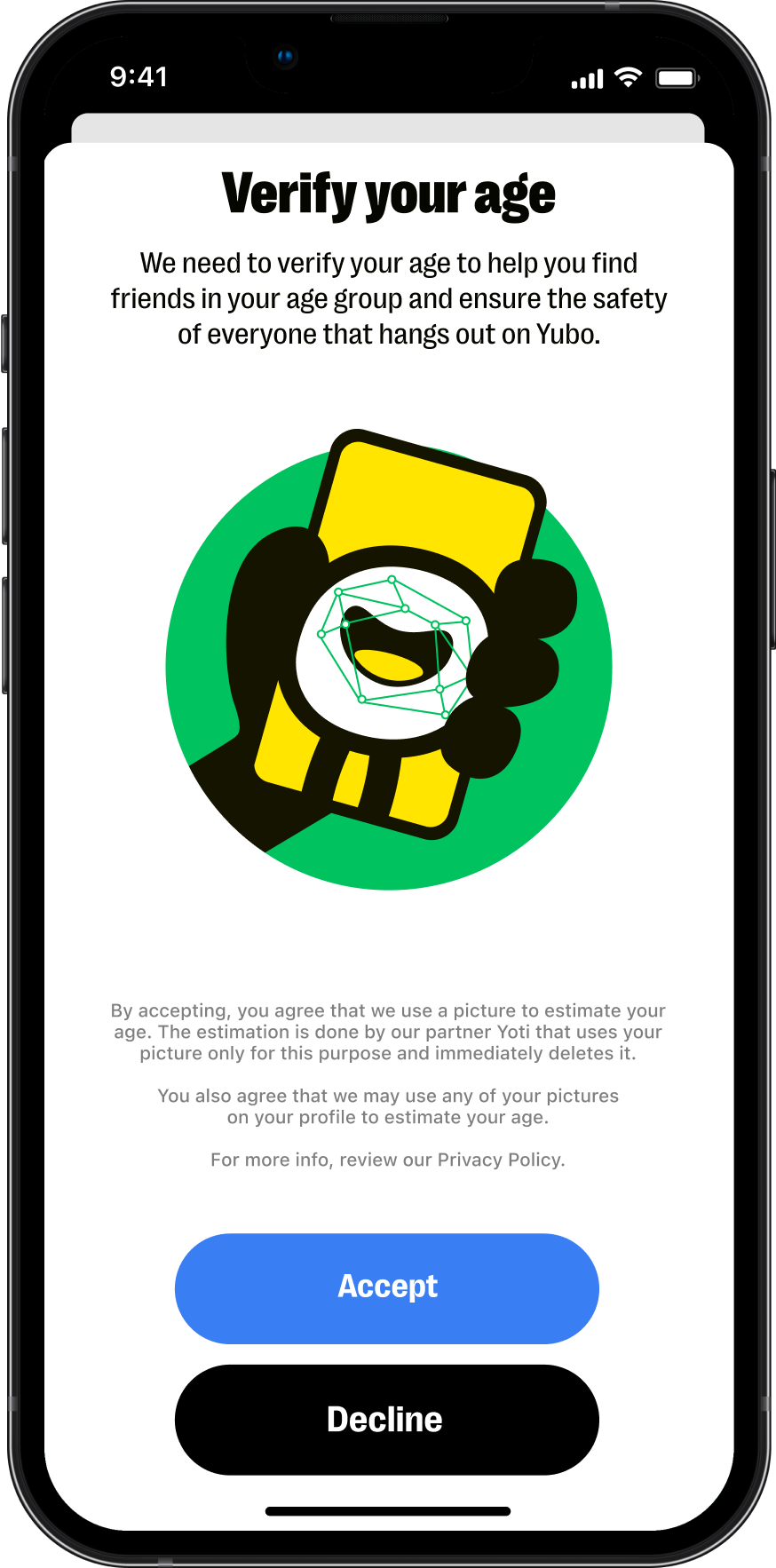 Step 2
Once you accept, your camera will activate and you will be prompted to place your face within an oval that appears on the screen.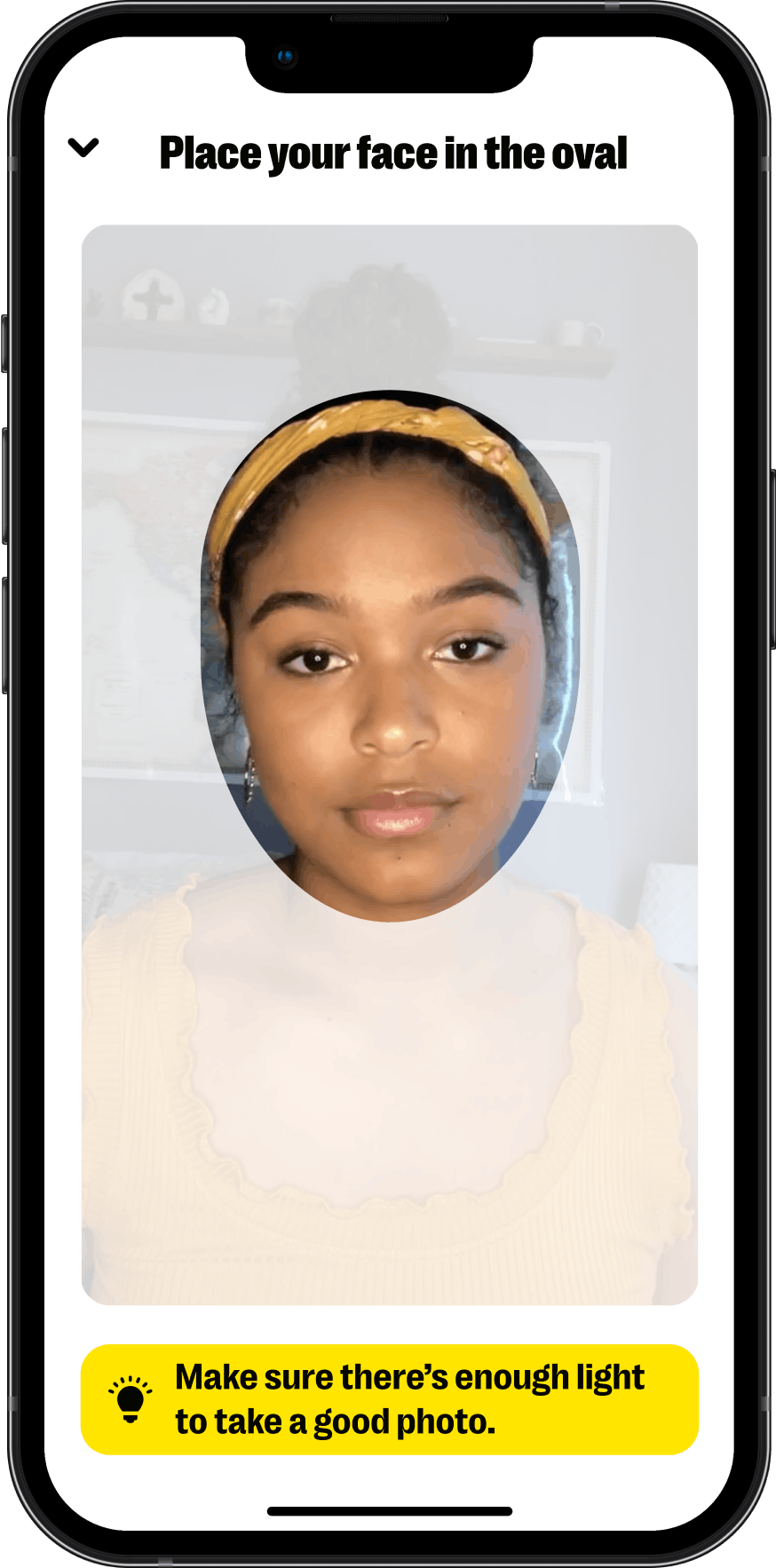 Step 3
Once your photo is taken, Yoti's age estimation technology will analyze the photo. You will be notified that your age is verified, that your age doesn't match or that you are not using a legitimate picture.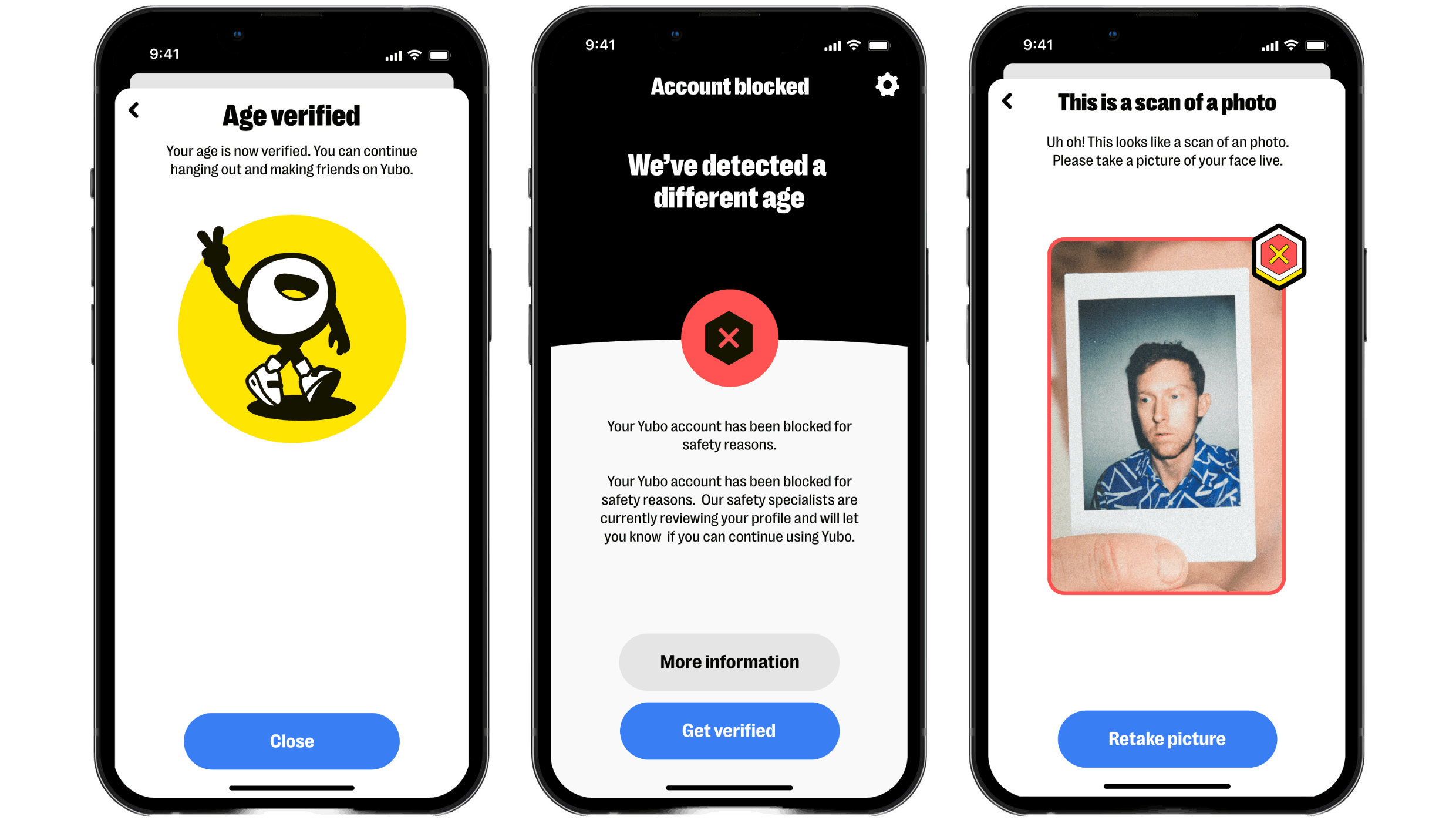 Step 4
If your age is verified, you will be brought to the Yubo homepage. If your verification fails, you will not be able to access the app and will need to provide additional ID documentation to verify your age.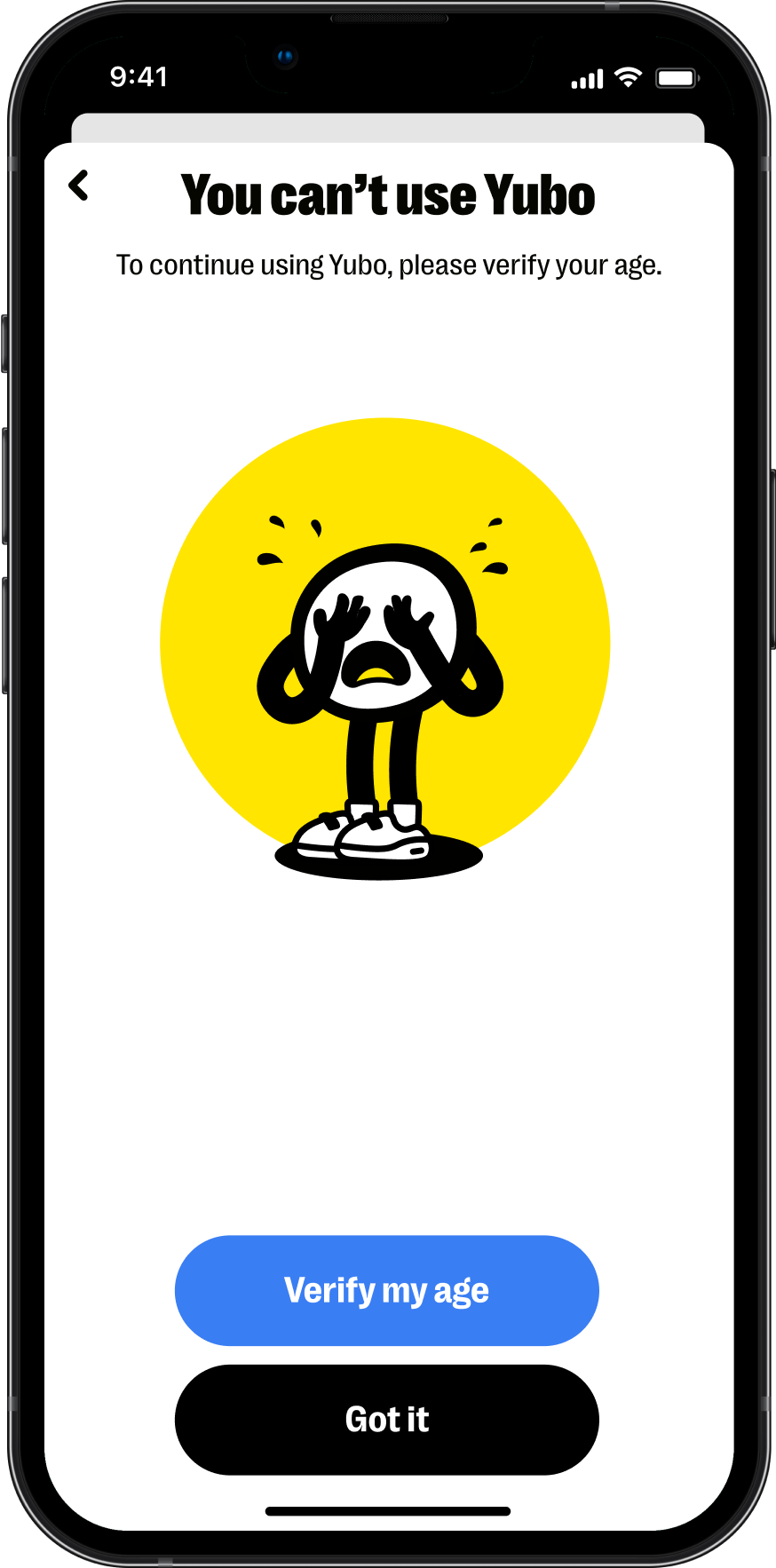 And that's all it takes! It's as easy as that. If you have questions, you can always reach out to Yubo Support or check out our online Safety Hub to learn more about what we do to keep Yubo a safe place for everyone.