Safety
Safer Internet Day 2022: Yubo x NoFiltr
3 minutes read
-

Written by Yubo Team
With so many young people in the Yubo community, their safety continues to be a priority for our whole team. Our Community Guidelines, technical tools and safety experts help to protect, support and educate our younger users 24/7. So we're always proud to support Safer Internet Day (#SaferInternetDay and #SID2022), a global event that promotes the safe and positive use of digital technology for children and young people.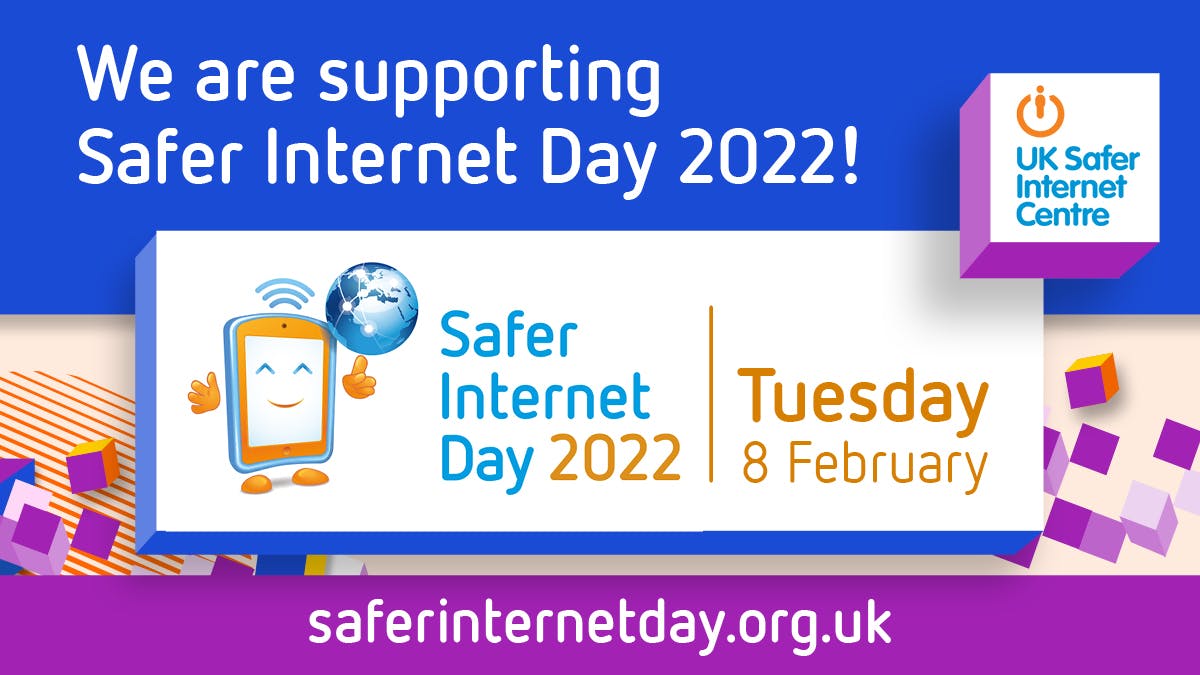 In line with the theme of this year's Safer Internet Day on 8 February – 'All fun and games? Exploring respect and relationships online' – we've teamed up with one of our industry partners to create an in-app campaign for Yubo users in the US. 
Encouraging critical thinking
Founded by Ashton Kutcher and Demi Moore, Thorn is a US-based NGO that builds technology to defend children and young people from sexual abuse. Its youth brand NoFiltr, launched in 2020, helps young people to navigate the challenges of the digital world. 
Our Yubo x NoFiltr campaign will be displayed in profile 'Swipes' and includes four crucial tips about online grooming (see below). Yubo users in the US who have any online concerns can contact our safety team directly by tapping the shield icon then 'Report' in the Yubo app or text NOFILTR to 741741.
"This campaign for Safer Internet Day is a great example of our proactive approach to preventing harm and helping members of the Yubo community to stay safe," comments Annie Mullins OBE, Safety Advisor to Yubo. "We want to encourage young people to think critically when interacting with others online, help them to deal with potentially risky situations and protect themselves from harm." 
"This includes helping them if they are being pressured into sharing personal information or images with someone they don't know. By providing the NoFiltr advice in Swipes, we're reaching them in their own space, using language that resonates with them, and letting them know that support is available."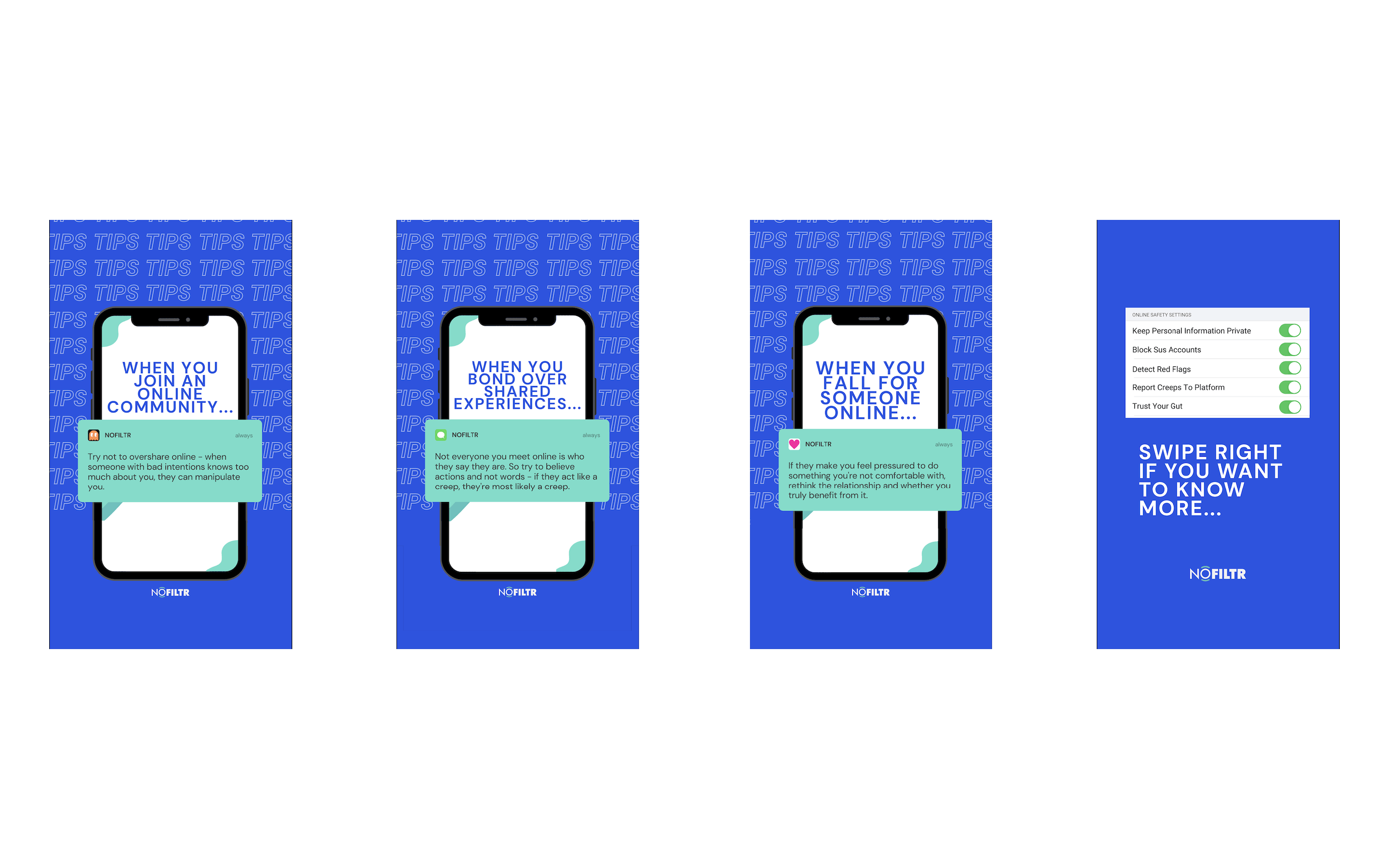 In a recent blog on the Thorn website, the company's CEO Julie Cordua noted that "Our global systems are failing to protect children from online sexual exploitation. We need to move the ecosystem that is at the core of creating this world (tech companies, law enforcement, parents and caregivers, public apathy) from a reactive, siloed, child-isolated network to a child-centered, child-supported, globally-connected, proactive, and accountable community."
Building partnerships and trust
Our collaboration with Thorn for Safer Internet Day is part of our focus on building relationships with governments, NGOs, charities and other organisations in order to help drive improvements in digital safety and wellbeing. 
For example, we're a member of the Tech Coalition and the ICT Coalition, and our Safety Board is made up of international industry experts, including John Shehan, Vice President of NCMEC, Mick Moran, formerly of INTERPOL, and Travis Bright, Product Director at Thorn. In recent years, we've also run various issues-based campaigns on the Yubo app with Childnet (UK), e-Enfance (France), Good Thinking (UK), NCMEC (US), Switchboard LGBT+ Helpline (UK), The Diana Award (UK) and many others.
And, of course, we continue to develop innovative tools that help to build a friendly, safe and inclusive community on Yubo and protect young people from online grooming, sexual exploitation, harmful content and other online concerns. These include:
Identity verification: Yubo users have to provide some personal information at sign-up, including their mobile number and a photo that clearly shows their face. We verify their mobile number and use face recognition algorithms and Google image search to check the authenticity of their profile picture.
Community Guidelines: We have strict rules to make sure that discussions between users are respectful and similar to those they would have in real life – everyone has to agree to adhere to these guidelines. Topics covered include nudity, violence, drugs, hate speech, fake profiles and bullying. 
Muted Words: This feature, which was introduced in 2021, allows Yubo users to block any word, abbreviation or emoji that they find offensive, harmful or triggering from comments or content in the app. 
Cautions about inappropriate content requests: If a Yubo user attempts to make inappropriate requests in private chat, we'll caution them by sending a pop-up alert, and we'll block that content from being shared.  
Real-time intervention in Lives: If we see inappropriate behaviour or content in a livestream (e.g. if someone asks for nudes), we send a pop-up alert and use the opportunity to explain how the user has crossed the line, how to change their behaviour and what further action we'll take if they don't comply. 
Find out more about Safer Internet Day 2022 in our recent blog. We'd also encourage you to check out the Yubo Safety Hub, where you'll find information about our approach to safety, advice about key concerns, details of our safety tools, short guides for young people and parents, carers and educators, and a list of support organisations by country.